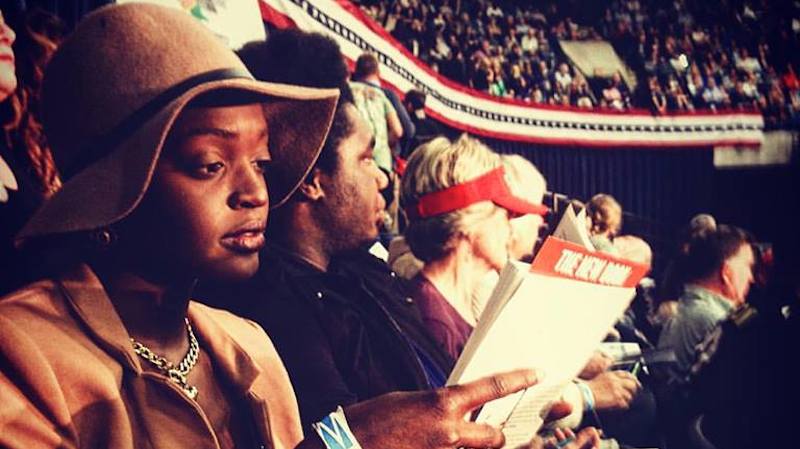 The identity of the woman who perfectly expressed a sane person's reaction to being at a Donald Trump rally by whipping out a book and refusing to put it down has been revealed. Twenty-three year-old Johari Osayi Idusuyi is the woman behind the head flip heard 'round the nation.
A writer and student at Lincoln Land Community College in Springfield, Illinois, Idusuyi found herself not only in the right place at the right time, but with the right book in hand. Citizen is an award-winning work by Claudia Rankine that explores the pervasiveness of racism and microaggressions in America.
In the viral footage, we see Idusuyi interrupted by an older white couple and scolded for not paying attention to Trump's speech. "I'm a young 20-year-old black woman who doesn't care about this Trump rally, and I'm pretty sure that angered her a lot," Idusuyi says.
Many assumed that the incident was planned, but it was actually a bit of a fluke brought on by Trump's own terrible behavior. Idusuyi decided to attend the rally with a surprising amount of optimism and willingness to at least hear what the second-place Republican candidate had to say. What ensued was an accidental protest, of sorts, but one that got its message across quite clearly.
I spoke to Johari Osayi Idusuyi on the phone about how she ended up at a Donald Trump rally in the first place and what exactly went down during her exchange with the angry couple. Our conversation has been edited for clarity and length.