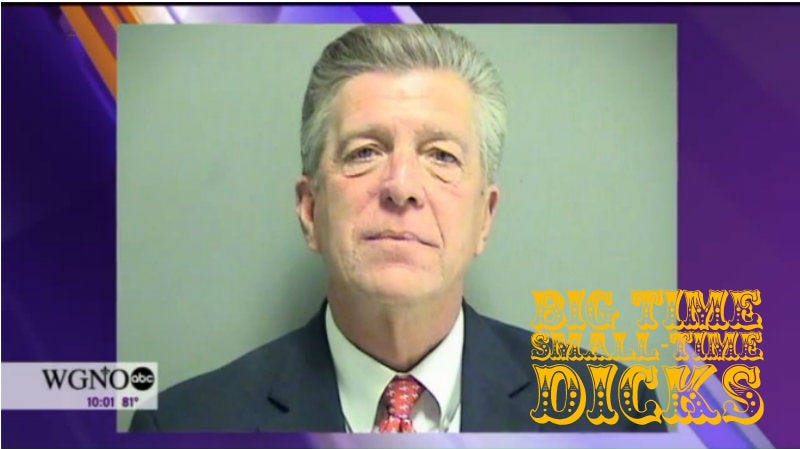 Big Time Small-Time Dicks
Welcome to Big Time Small-Time Dicks, a regular column on The Slot that explores local politicians, small-town scandals, and everything else making life miserable on a local level.
A Louisiana local government official named Dave Peralta is having quite a year, indicted in August on an impressive 22 counts of malfeasance in office, extortion, obstruction of justice, and abuse of power. Among other things, Peralta is accused of using his employees to stalk his ex-wife, who previously accused him of rape. Now, Peralta is demanding that all his charges be brought to the speediest possible trial, since he's running for re-election in October and would like all this messiness squared away.
Peralta is the president of St. Bernard Parish (Lousiana has parishes instead of counties, and parish presidents function as the heads of parish government). It's tough to know quite where to start with the various things he's accused of, but the Times-Picayune has a handy rundown: the most recent 22-count indictment is largely related to his alleged stalking of his ex-wife Sharon Schaefer between February and July 2014, allegedly while using his parish cellphone, laptop, mobile hotspot and enlisting numerous employees for help. He's accused, too, of creating a "hostile work environment" for employees who cooperated with an investigation against him according to news station WGNO:
Peralta is accused of creating a hostile work environment and firing employees who were cooperating with investigators and not helping him. Peralta is said to have asking parish workers to help him locate his wife's address after the two separated, coerced parish employees to create anonymous email accounts and write negative comments about his political opponents on websites.
In April of 2014, in a separate case, Peralta was indicted on sexual battery charges, accused of handcuffing Schaefer, forcing her to perform oral sex and raping her in October 2013. (The two were divorced in December of that year.) Peralta claimed the encounter was consensual and that she was making up rape allegations out of spite: "That is what she wanted for her birthday. That is what she asked for." That charge was dismissed in April of this year, less than a week before the trial was set to start, in what was widely interpreted as a strategic move to bring a broader set of charges against him.
In September of 2014, a different parish's grand jury, St. Tammany, indicted Peralta on felony stalking charges, for allegedly harassing Schaefer by phone and email. And then, in May of 2015 — try to keep up, we're aware this is ridiculous — he was also indicted in Baton Rouge and accused of illegally using campaign funds to gamble at casinos. He's charged there with perjury and filing false reports. Throughout all this, he has kept his job, studiously ignoring the parish council's calls for his resignation.
So that's three parishes with three separate sets of accusations against Peralta, who sounds, allegedly, like a real nightmare. In bringing the 22-count indictment, the prosecution also asked for an extremely high bond — $1.1 million bond — to be placed on Peralta, with Assistant Attorney General Matthew Derbes telling the judge, "This was a crime spree, literally a public corruption crime spree that lasted 18 months." (That request was denied, and Peralta's bond was set at $110,000.)
Peralta denies all of the various allegations against him. On August 20th, he and his attorney asked for the St. Bernard charges to be speedily brought to trial, so that he has "a fair opportunity" to be elected on October 24. Peralta's attorney Martin Regan said the charges against his client were political:
His attorney Martin Regan, who also is defending Peralta in two other jurisdictions, said it "is essential that he be tried prior to the election" on Oct. 24 so that Peralta "has a fair opportunity to be reelected."

Regan said they are prepared to proceed to trial immediately.

"The Attorney General's Office has intentionally delayed the indictment and now wishes to delay the trial in the above captioned case for political reasons," Regan said in the motion. Assistant Attorney General "David Caldwell and (state Attorney General) James D. 'Buddy' Caldwell are both close social and political friends of Mr. Wayne Landry, who is running against Mr. Peralta for parish president in St. Bernard."
Peralta, who is also reportedly undergoing chemotherapy for an undisclosed cancer, can only be fired as parish president if he's convicted of a felony or doesn't show up to work for 60 days, according to local news station WDSU, both of which sounds like they could be distinct possibilities.
---
Contact the author at anna.merlan@jezebel.com.
Public PGP key
PGP fingerprint: 67B5 5767 9D6F 652E 8EFD 76F5 3CF0 DAF2 79E5 1FB6
Peralta's booking photo from St. Bernard Parish. Screengrab via WGNO. Big Time Small-Time Dicks logo by staff male Bobby Finger