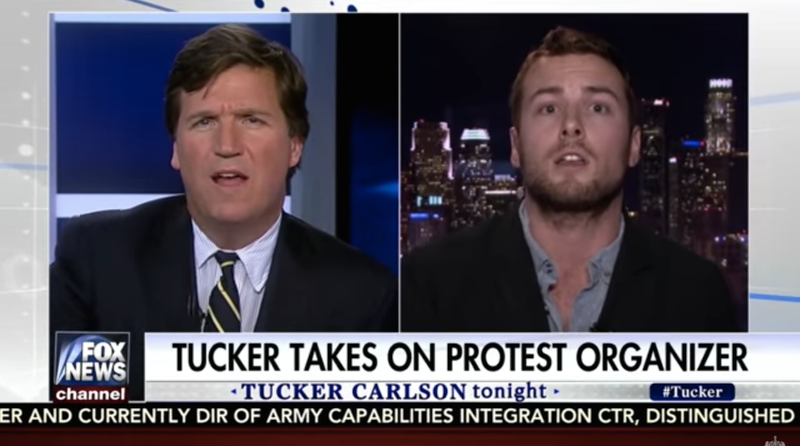 On Monday, hordes of demonstrators descended on Los Angeles' City Hall and across the country as part of a series of heavily covered anti-Trump protests called #NOTMYPRESIDENTSDAY. The protests were organized primarily by Olga Lexell and Heather Mason, two LA residents who were in contact with organizers in each participating city. On Monday evening, Lexell says Fox News host Tucker Carlson invited her to be a guest on his show. Although Lexell declined the invitation, Carlson still managed to interview someone he pitched first as a protest attendee, and later as a protest organizer: an actor named Shane Saunders.
At the beginning of the segment, Carlson introduces Saunders as someone "who participated" in the protests, and asks why Saunders thinks "your protests will have an impact." By minute four of the interview, the chyron across the screen read, "TUCKER TAKES ON PROTEST ORGANIZER."
The interview demonstrates one of Carlson's tactics—identify and isolate someone to speak for a certain side who is potentially unprepared to do so, and out-argue them until they've seemingly been defeated. But the inaccurate chyron isn't a tactic—it's incorrect information, and incorrect information that directly contradicts information Carlson said at the beginning of the interview.
In January, Carlson notably discredited Dom Tullipso of hoax website "Demand Protest," which claimed to be a business that would stage mass protests across the US for money.