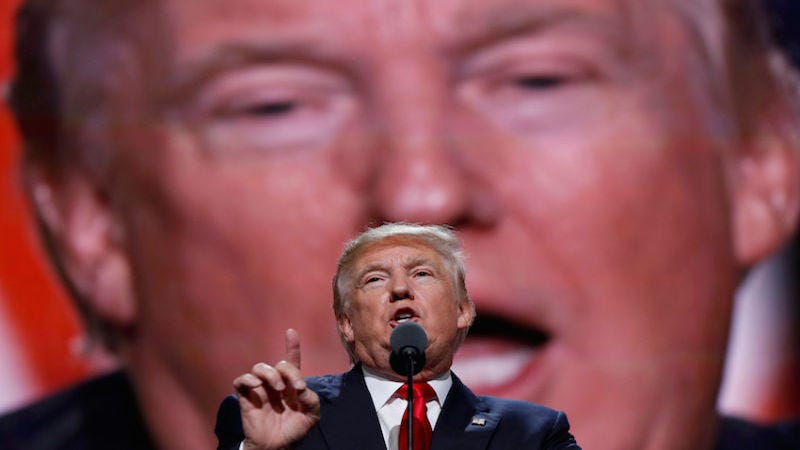 "What we saw was that the American people didn't care about those things," Corey Lewandowski said during CNN's early morning coverage of Tuesday's election, referring to the scandals that plagued Donald Trump's campaign. "What [Americans] want, is someone who tells them the truth," Lewandowski concluded.

The truth: It was an effective battlecry for Trump campaign, a word uttered with clarity but without definition. Trump the truth teller; Trump the slayer of political correctness. The story Trump told assured Americans that the truth exists somewhere outside of "the media"—an all-encompassing term that seemed throughout Trump's campaign to simultaneously define everything and nothing—and Trump alone could grab a great conspiracy by its shadowy horns and drag it into the light. Truth, to the Trump campaign, was a series of random locations that only a singular man in the possession of a singular ideology, could correctly map. It required his unique interpretation of words unspoken, Trump's willingness to speak words that had become slightly uncomfortable for his supporters to speak out loud, in a public sphere where they conflated the censure of raised eyebrows and criticism with persecution.
Trump's rebuffs of political correctness, a theme that underpinned his entire campaign, were about persecution; the utter belief that Trump's xenophobia and sexism were bedrock truths that were being suppressed by liberal values laying waste to comfort and American values. "I think the big problem this country has is being politically correct," Trump said during the August 2015 Republican primary debate. It was a message with traction, proof that Trump had guts, or in the words of one supporter, "cajones."
At the Republican National Convention, speaker after speaker spoke the truth that had been repressed: that immigrants were killing American children, that Hillary Clinton was a felon, that terrorists and criminals lurked, and that persecution was the heavy burden carried by those out of step with New Left values. These truths were met with cheers, with chants of "lock her up," and loud men demanding the construction of a wall and even more deportations.