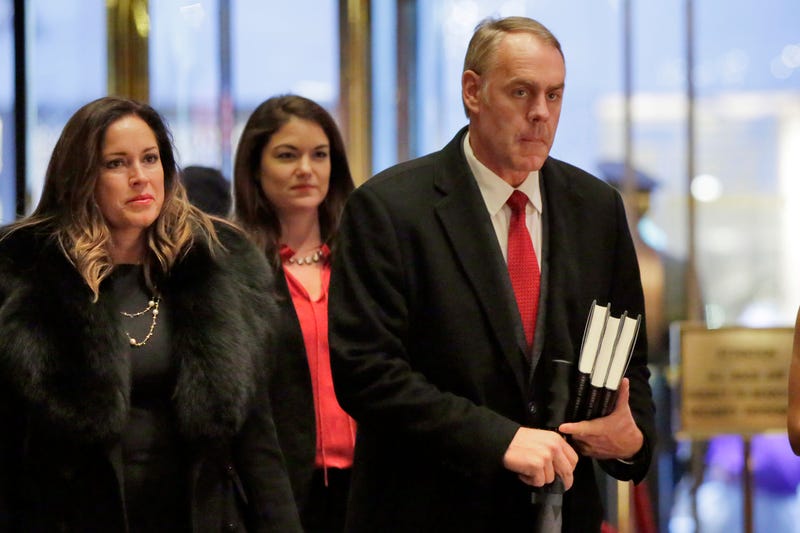 It's looking like Donald Trump is going to offer Ryan Zinke, the Montana congressman in his first term in the House of Representatives, a position in his cabinet, as Secretary of the Interior. An ex-Navy SEAL, Zinke has campaigned for the president-elect since May, and visited Trump Tower last Monday. He is, at first blush, the first cabinet pick who doesn't leave a trail of industrial waste everywhere he goes—which is somewhat surprising, given Trump's affinity thus far for corporate stooges. So what qualifies Big Sky Country's single U.S. representative to run the United States' public lands? Well, apparently, he and Donald Trump Jr. have bonded over their shared love of hunting. "Everything we know about Don Jr. is that he is a believer in the value of public lands," Aaron Weiss, a spokesman for the Center for Western Priorities, told me. "And we know that Donald Trump listens to his kids."
Under the Obama administration, public lands have become something of a flashpoint and rallying cry for anti-government extremists of many different stripes. In April, House Democrats requested that the full House Natural Resources Committee conduct an investigation into the 41-day occupation of the Malheur National Wildlife Refuge in Oregon. "I like him, I like his spirit, his spunk," Donald Trump said of the militants' leader, Ammon Bundy. "I respect him." Republicans declined to participate, and over the summer Democrats held an informal hearing on "violent extremism on America's public lands."
The federal government owns nearly half of all land in the American West, some of which is administered by the Agriculture Department's United States Forest Service, but the overwhelming majority of which—three-quarters of all public lands—is managed by the Department of the Interior. (In some states, like Oregon, Utah, and Nevada, the government actually owns the majority of all land.) The Bureau of Land Management alone controls 247 million acres, which it can lease to ranchers or mining or drilling companies. The festering resentment produced by this dynamic has led to a number of violent confrontations in recent history, as was the case with the Sagebrush Rebellion of the '70s and '80s and, in more recent memory, the armed standoffs with federal agents provoked by the aforementioned Bundy family that Donald Trump thought was so spunky in Nevada in 2014 and Oregon earlier this year.
It has also led to the more mainstream "land transfer" movement—allied with the militias and Patriots who take potshots at Bureau of Land Management officials, but more conventionally political. In recent years, generic organizations with names that are easily reduced to anodyne-sounding acronyms like the American Lands Council (ALC), the American Legislative Exchange Council (ALEC), and Federalism in Action (FIA), have been pressing legislators at all levels to pass legislation that transfers control of public lands from federal to state control. Unfortunately, western states cannot afford to own the land; if they did, they would inevitably be forced to either lease or sell large swathes of that land to private businesses.
This is the crux of the issue: The federal government controls an enormous amount of land that would be worth hundreds of millions of dollars—possibly even billions—to businesses large and small that would prefer not to have to deal with taxes or pesky environmental regulations. All three primary organizations supporting the land transfer movement—ALC, ALEC, and FIA—have benefited from the largesse of the right-wing industrialist Koch brothers and their powerful donor network. Organizations like these are the carrot to the militia movement's stick.
Congressman Zinke, for his part, has been an outspoken defender of public lands and keeping them in public ownership, with some exceptions. "Zinke seems to be okay on some conservation issues," Matt Lee-Ashley, director of public lands at the Center for American Progress, told me. "But he's also a supporter of Big Oil and Big Coal, especially since coming to Congress. He's also done a flip-flop on climate change." Since 2013, Zinke has raised at least $423,000 from energy industries, including at least $345,000 from the oil and gas industries. "That kind of money goes a very long way in Montana," Weiss, the Western Priorities spokesman said—the point being that, now that he doesn't need to get elected, there is some question about whether he will actually stick to his stated principles. "The confirmation hearings will be very illuminating," Weiss added.
Zinke's views on energy, at first glance, seem to be very much in line with Oklahoma attorney general and incoming Environmental Protection Agency head Scott Pruitt. "We should expect a very aggressive, pro-coal, pro-oil approach at the Interior Department as well as at the EPA," Lee-Ashley advised. "Although that may also mean that Zinke might not pursue the most radical parts of the GOP platform: land sales." In fact, Zinke resigned as a delegate to the Republican National Convention over the party's inclusion in its platform of a provision demanding that Congress pass legislation requiring the government "to convey certain federally controlled public lands to the states," although he still spoke on the first night of the convention.