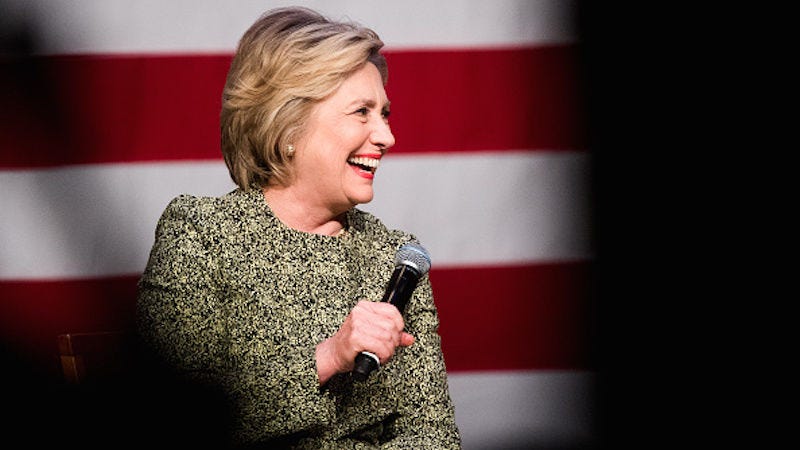 In a report released on Wednesday, the State Department inspector general said that Hillary Clinton violated the agency's rules with her private email server. The report also said that Clinton was not cooperative with the investigation and declined to be interviewed by the auditor. Clinton aides Huma Abedin, Jake Sullivan and Cheryl Mills also declined to be interviewed.

Politico reports that the State Department's auditor found "'longstanding, systemic weaknesses' with records that 'go well beyond the tenure of any one Secretary of State,'" but focuses on Clinton's mishandling of records in particular.
"Secretary Clinton should have preserved any Federal records she created and received on her personal account by printing and filing those records with the related files in the Office of the Secretary," the report states. "At a minimum, Secretary Clinton should have surrendered all emails dealing with Department business before leaving government service and, because she did not do so, she did not comply with the Department's policies that were implemented in accordance with the Federal Records Act."
The report also singled out Clinton for her decision to use a private server to send department-related, classified emails on an unsecured server. The report said that Clinton should have discussed that decision with departmental security officials. Clinton's decision, the inspector general concluded, presented "security risks" that were unacceptable to the department.
Neither Clinton nor her camp has responded to the report. She has repeatedly insisted that she had the server for personal privacy, that she did nothing illegal, and was not attempting to evade State Department record rules. And whether or not the report will have an impact on Clinton's presidential campaign is hard to gauge, as it essentially tells us what we already know: Clinton had a private server and it did not comply with State Department rules. Any inference beyond that belongs to the reader.
Thus far Clinton's email scandal hasn't had much impact on her base—in part because, while the story is shady as hell, there's no smoking gun. She released 30,000 emails to the State Department in December 2014, and while some were comical, none of them were exactly scandalous. Nonetheless, Politico speculates that Trump, who has already mentioned Clinton's emails on the campaign trial, will continue using the scandal to his advantage:
"The watchdog's findings could exact further damage to Clinton's campaign, and they provide fresh fodder for Trump, who has already said he will go after Clinton for the email scandal "bigly." The Democratic frontrunner's bid for the White House has already been hindered by high unfavorability ratings, with people saying they don't trust her."
Perhaps that's the case, but a major focus on email procedures seems a bit wonky for the kind of campaign strategy Trump seems to be mapping out (if, in fact, any of it purposeful). For now, he seems more focused on playing the "who's better for women?" game. Last week, Trump's campaign released a new ad that featured Monica Lewinsky, Kathleen Wiley, Juanita Broaddrick and a cackling Clinton. Joanna described the ad as, "exploitive, foul, deceptive, poorly constructed, and perfectly on-brand for the troll candidate."