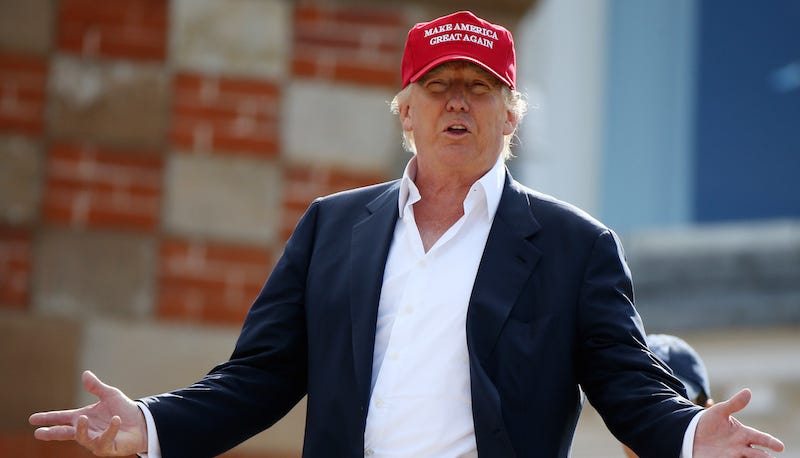 On Monday, Donald Trump summoned the most visible members of the press corps—television news reporters and the executives of their networks—to his gilded apartment building, where he sat them in a boardroom and acted out his best version of The Apprentice in an off-the-record meeting from which the New York Post has nonetheless collected multiple anecdotes.
The paper reports that Trump—who complained about his coverage on basically every network throughout the campaign, repeatedly called out NBC reporter Katy Tur by name, and employed security guards who decked at least one reporter—used the opportunity as a revenge masturbatory fantasy of sorts.
According to the Post, who quotes an anonymous source that isn't not Donald Trump, Trump sat the 30-odd members of the press from ABC News, NBC News, CBS News, Fox News, CNN and MSNBC in a boardroom and humiliated them like a dog, as certain sources might say.
"Trump started with Jeff Zucker and said I hate your network, everyone at CNN is a liar and you should be ashamed," the Post reports the source said. Does this sound like something Donald Trump would say Donald Trump had said? Probably a coincidence.
"The meeting was a total disaster. The TV execs and anchors went in there thinking they would be discussing the access they would get to the Trump administration, but instead they got a Trump-style dressing down," the source, who may—or may not!—be Donald Trump, said.
At CNN, Brian Stelter suggests a different version of a story, a tale that is backed up by Trump's campaign manager Kellyanne Conway.
...a source in the room said there was "real progress" made with regards to media access to Trump and his administration.

A second participant affirmed this and said the journalists spoke with Trump about the importance of the "press pool," a small group of journalists that traditionally travels with the president.

Conway said the meeting was "very cordial, candid and honest."

While there was "no need to mend fences," she said, "from my own perspective, it is great to hit the reset button, it was a long, hard-fought campaign."