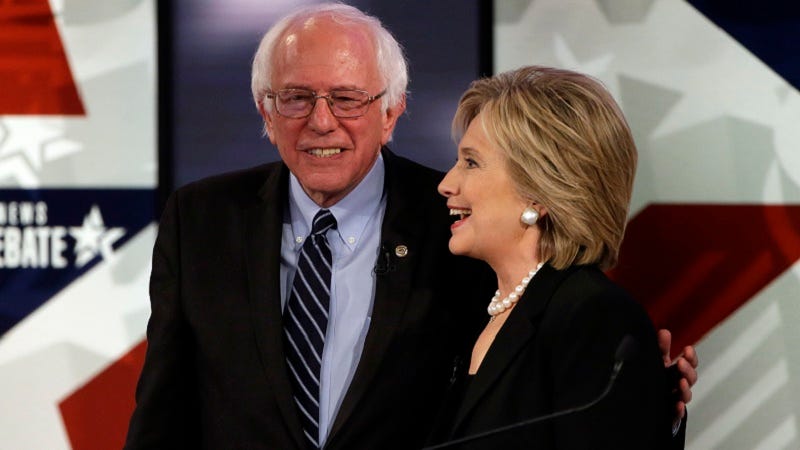 Earlier today, Bernie Sanders said that he would not participate in Thursday's scheduled debate unless Hillary Clinton met certain conditions outlined by his campaign.
"We are continuing to negotiate with them not just about the debate Thursday night, but about the other debates that we have said need to be agreed to in order to put the whole package of debates together," Tad Devine, Sanders' senior adviser, told The Hill. Devine indicated that Sanders wants to add a debate in New York and Clinton does not "want to have a debate in New York."
Clinton responded today during an interview with CNN's Wolf Blitzer. She said that her campaign has met the conditions and urged Sanders to participate in Thursday's New Hampshire debate. "I sure hope — we're in Bernie Sanders' backyard here in New Hampshire — I sure hope he intends to show up in his neighboring state," Clinton told Blitzer. "Let the people of New Hampshire see us both on the debate stage." Clinton continued:
"This is really hard to follow because when we said we would do the debate, they came back with conditions. We met the conditions. Then they said they want different conditions, and we've tried to be very accommodating, but, you know, we have agreed to everything that they have asked us to do.

We've accepted all of their conditions. We did that last week, and they keep trying to add new conditions, which, you know, raises questions about how ready or willing they are to debate here in New Hampshire."
Devine responded by saying that Clinton was mischaracterizing Sanders' requests.
Scheduled to air on MSNBC, Thursday's debate is not part of the Democratic National Committee's original schedule. Rather, it was the result of an agreement made between Clinton, Sanders, and Martin O'Malley (RIP) earlier this week.