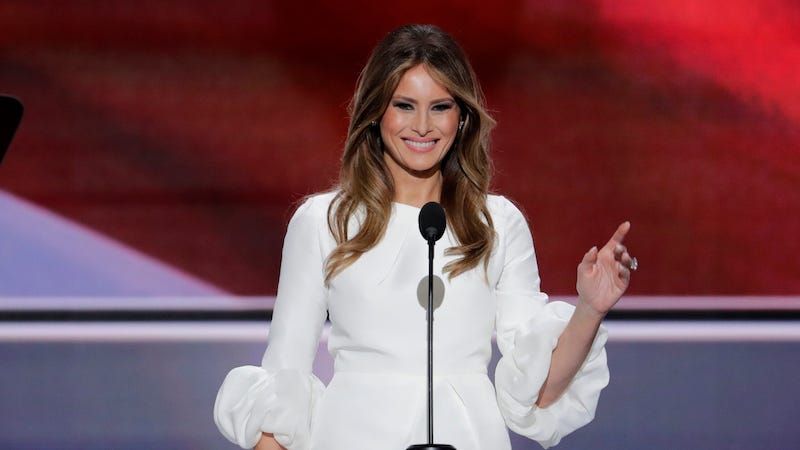 CLEVELAND — On the first night of the Republican National Convention, the theme was ostensibly "Make America Safe Again," but could have just as easily been called "Sad Moms." Pat Smith, the mother of Sean Smith, the Foreign Service employee killed in Benghazi, spoke with tears in her eyes. She was followed by Mary Ann Mendoza, a mother who lost her 32-year-old son after he was killed by an undocumented immigrant in a car accident, and Sabine Durden, whose son died in a similar manner.

Each of these women was relentlessly anti-immigration, cheered on the building of Donald Trump's promised wall, and cheered even louder at the prospect of seeing Hillary Clinton in jail. "I blame Hillary Clinton, personally," Smith said. After the crowd cheered "Hillary for prison!" she responded, "That's right, Hillary for prison. She deserves to be in stripes!" They were angry and emotional and relentlessly visible; they were everything the Trump campaign itself claims to be.
Melania Trump's speech was an attempt to build on the raw emotion, the mixture of anger and sadness, that the mourning moms of the Republican Party had already established as the evening's tone. (Rudy Giuliani had also done his part in fueling the anger, with a gesticulating speech that was little more than a series of non sequiturs about the dangerous specter of, well, something.) But the candidate's wife was unable to tap into the emotional setup, not even with a speech plagiarized in part from Michelle Obama's memorable 2008 speech.
She spoke listlessly about her son and her husband and even more listlessly when she assured the audience that Donald Trump was a patriotic American. "I have been with Donald for 18 years, I've been aware of his love for the country since we met," Melania said, attempting to convince a national audience that small talk about patriotism is the stuff of first and second dates. There was little of the traditional "candidate's wife speech": no Michelle Obama bringing the audience to tears in 2012, no Anne Romney recounting an authentic love story, not even Tipper Gore enduring an awkward kiss.

In short, for a candidate that sells himself as the "authentic" choice, Donald Trump came across as little more than an occasional presence in the narrative mustered up by his wife (Melania Trump told NBC that she wrote the speech herself). Instead of love and affection, there was communism and anti-immigration; the typical portrait of domestic life was subsumed by manufactured threats. Instead of a dad buttering toast or a humble guy with a rusted-out car, there were lazy immigrants and an "amazing leader."