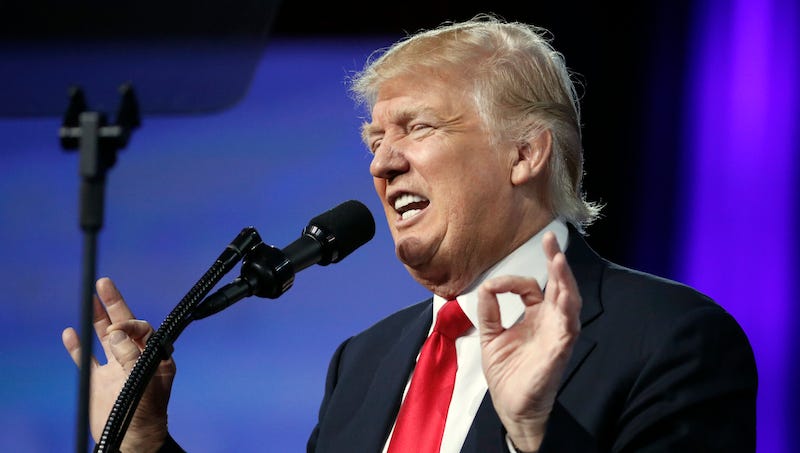 NATIONAL HARBOR, MD—Esteemed president Donald J. Trump used his CPAC speech Friday to rail against the First Amendment and the media's use of anonymous sources—a curious stance for the self-proclaimed businessman, given his history of citing anonymous sources and pretending to be other people in interviews.
"A few days ago, I called the fake news the enemy of the people and they are, they are the enemy of the people. They have no sources, they just make them up when there are none," Trump said. "I saw one story recently where they said nine people have confirmed, there are no nine people, I don't believe there were one or two people, nine people."
Trump's CPAC invective appeared to be prompted by a Washington Post story, published early this morning, that quotes nine anonymous sources who say Trump advisor Reince Preibus tried to get the FBI to deny reports that Trump's administration was in contact with Russia.
"There are some terrible, dishonest people and they do tremendous disservice to our country and to our people, tremendous disservice, they are very dishonest," Trump said from the CPAC stage. "They shouldn't use sources, they should put the name of the person, you will see stories dry up like you have never seen before."
And to Trump's credit, he is intimately familiar with the concept of making up a source to pretend something is true.

But as Trump knows well, naming a source doesn't mean what they're saying is true. In 1990, for example, People Magazine published a report that Trump had turned down Madonna sexually and stole Carla Bruni from Mick Jagger, citing as a source Trump spokesperson John Baron. The interview, as it turned out, was recorded, and the voice of "John Baron" clearly belongs to Trump. Trump also admitted under oath in a 1990 court case that "he and one of his executives have used the name John Baron in some of their business dealings."