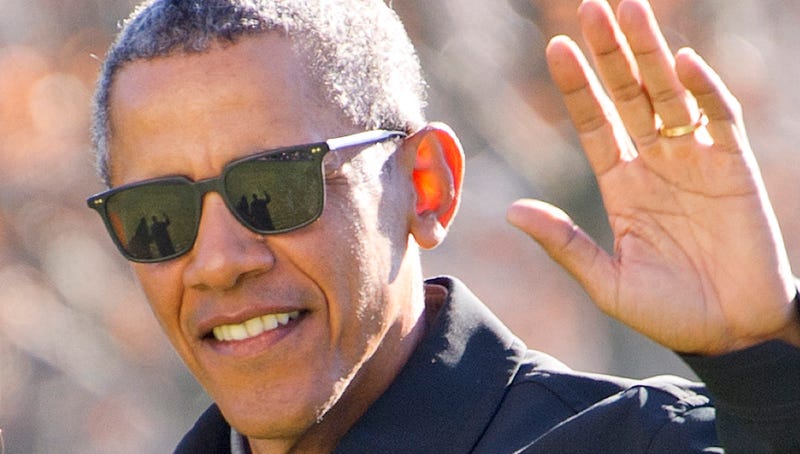 Barack Obama will deliver the last State of the Union of his presidency this evening, and the internet is expecting that shit to be lit. Not just because we're hoping he uses the opportunity to finally let her rip, valedictorian speech-style, but also because he teased this thing with a Hollywood blockbuster style trailer worthy of Die Hard or a less verbose Aaron Sorkin vehicle.
This SOTU trailer is the true definition of a summer matinee epic, and the whole internet appears to have the popcorn all the way popped. He could do worse than to package his accomplishments this way—the fools who want to ignore his legacy will at least be distracted by the dramatic score, which sounds like the equivalent of a human-sized bald eagle flying through the cerulean skies next to an F-15 painted with the American flag on it.
But Obama's true music of choice is from the Broadway smash Hamilton, which he demonstrated through a little subliminal and nod to the Ham Stans with his tweet "One last time," which both refers to his final SOTU and, possibly, the eponymously titled song performed by Hamilton's "George Washington," played by Christopher Jackson.
In Hamilton's "One Last Time," President Washington tells his confidante Alexander Hamilton that he's "stepping down, he's not running for president." The chorus:
One last time

Relax, have a drink with me

One last time

Let's take a break tonight

And then we'll teach them how to say goodbye

To say goodbye

You and I
Perhaps even more subliminally, the song serves as Washington's parting advice to the future president—advice Obama certainly feels in his no-doubt weary bones:
I wanna talk about neutrality/I wanna warn against partisan fighting