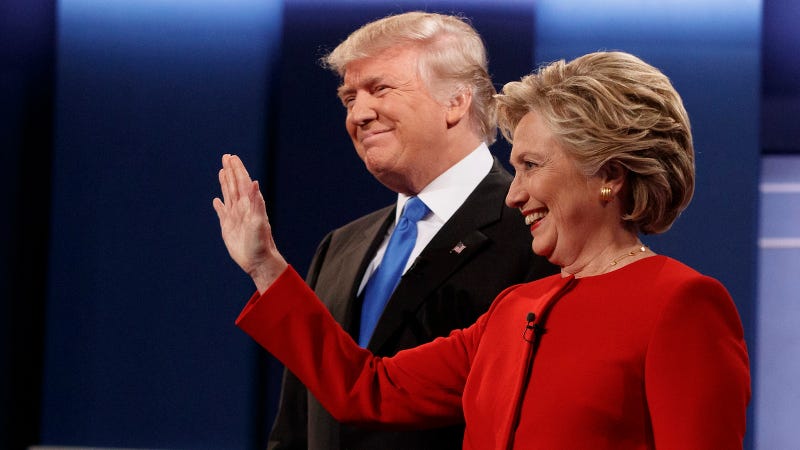 "They're lies," Melania Trump told CNN's Anderson Cooper during a lengthy interview Monday night. Melania was referring to the nearly dozen women who have accused her husband, Donald Trump, of sexually assaulting them. "I believe my husband, I believe my husband," she repeated, as she turned the blame to the "left-wing media." Women, Melania continued, were constantly propositioning her husband. She then alluded to the "inappropriate stuff" women said and did to her husband, notably conflating sexual assault with sex.

Truth and lies stood on opposite ends. Melania's husband was in possession of the truth in her estimation and, quite simply, women were scheming and lying. Her interview reflected a series of familiar dichotomies: the rational man and the irrational woman; the naturally potent man and the scheming woman who looks to exploit that appetite for her own gain. These metaphors of gender—already overburdened—were exhausted by Melania, just as they have been by Donald Trump.
It's as exhausted this year as the imperative to "believe women," which has become a standard catchphrase, a shorthand to implore listeners to disengage from a long history in which sexual assault victims were discredited, shamed, and denied. There's no doubt that still happens, as it did in Melania's interview, and there's no doubt that women deserve the benefit of the justice system, rather than its derision.
Melania's interview had shades of Hillary Clinton's 1998 sit-down with the Today Show, as it was likely meant to. In that interview, Clinton coined the phrase "vast right-wing conspiracy," in response to a number of both bitter rumors and scandals that haunted her own husband, including Monica Lewinsky. Later, Clinton said that she regretted the phrase, not because of its implications, but because it "became an excuse for not looking at what was clearly a concerted political effort against the Clinton administration." Beyond Bill Clinton's consensual, yet troubling, relationship with Lewinsky, there were other women who accused President Clinton of rape and sexual assault. Their names are familiar—Juanita Broaddrick, Paula Jones, and Kathleen Willey—cudgels in an election that has increasingly become a referendum about the emptiness of that phrase: "Believe women."