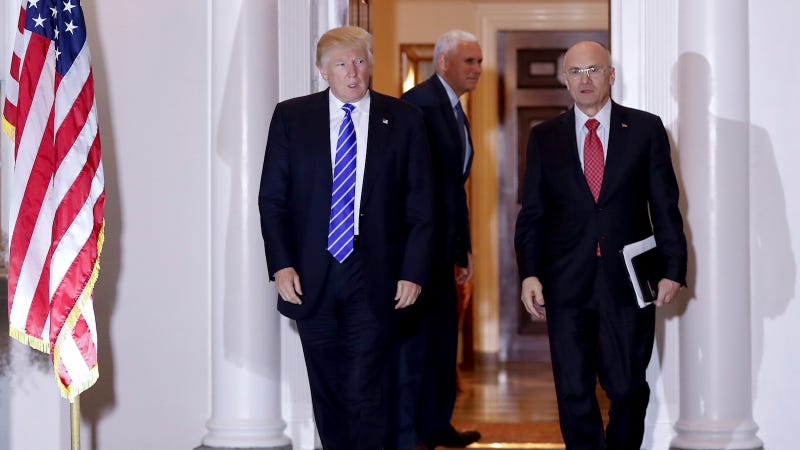 Andrew Puzder, the CEO of fast-food chains Hardee's and Carl's Jr who was tapped today as Donald Trump's Labor Secretary, was accused of domestic abuse by his first wife, Lisa Henning.

The Riverfront Times reports that in the 1980s, the St. Louis Police were twice called to the couple's home. The allegations first became public in 1989, when Henning filed for divorce. In the divorce filing, Henning alleged Puzder hit her, threw her to the ground, and prevented her from calling the police. The Times reports:
Puzder would later acknowledge in a deposition that he "grabbed her by the shoulders and pushed her back," but said he did it to stop her from hurting herself.
Henning also alleged two other incidents of abuse, one in the 1970s during which police were called to their home and another in 1985. During the 1985 incident, Henning alleged that Puzder punched her in the face while the two were driving home.
Via the Times:
Questioned about the incident in a deposition for the divorce case, Puzder said that he had not punched his wife, but acknowledged driving onto the curb: "I think it had to do with the liquid refreshment we had with our dinner more than anything else."
The newspaper ran a cover story on the abuse allegations in the late 80s, Puzder denied Henning's claims and called the story "baseless." It might be easy to dismiss the allegations against Puzder, surely we'll hear some argue that these allegations have no bearing on his job, but it's worth remembering the Labor Secretary can have a major impact on women's work lives. From advising the Trump on family leave policies to enforcement of discrimination policies, Puzder's alleged history might impact the way in which he perceives the importance of such policies. Certainly, between the domestic violence allegations and some of his past public comments about women, his views seem about as enlightened as one of Hardee's/Carl's Jr.'s infamous Paris Hilton advertisements.