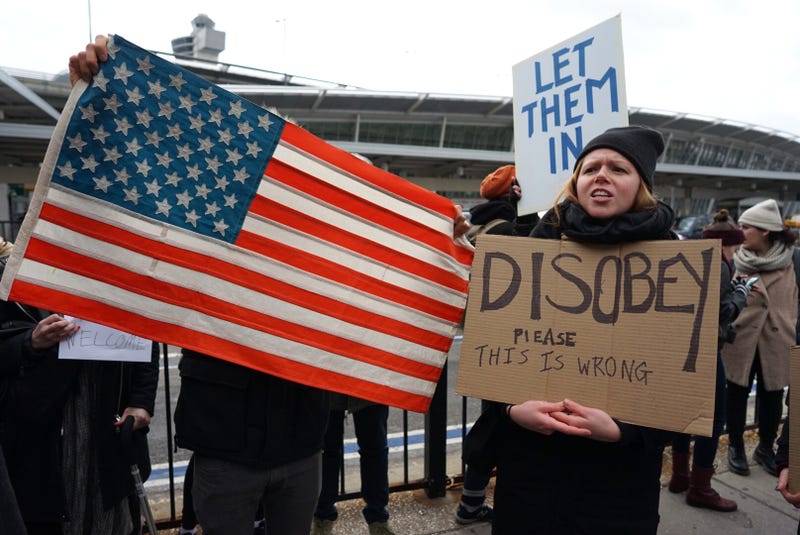 On Friday night, President Donald Trump issued a heartbreaking, intensely xenophobic executive order that indefinitely blocks immigration of Syrian refugees to the United States, and bans all immigration from seven predominantly Muslim countries (Iraq, Iran, Sudan, Libya, Somalia, Syria and Yemen) for 90 days. The order also suspends immigration of all refugees to the United States for 120 days.

The order contains the condition that refugees from these countries who practice minority religions, including Christianity, be given immigration priority, according to the New York Times. The order provides for some kind of religious test for refugees from affected countries, which will presumably be factored into determining their immigration status. Trump signed the executive order on International Holocaust Remembrance Day, which his administration acknowledged in a statement that did not mention antisemitism, and merely referenced the, "depravity and horror inflicted on innocent people by Nazi terror."
At the same time, Trump signed a memorandum on Friday to undertake "a great rebuilding of the armed services," calling for an increased military budget, the specifics of which have yet to be determined.
The ban went into effect immediately, and its consequences—for international relations, for resistance movements, for Muslim communities and communities of all kinds, for families and friends—are now being reckoned with and reported on as they begin unfolding in real time.
Chaos and confusion are already setting in at airports around the world as passengers are being turned away from international flights to the United States and, in some cases, being detained after just landing in the US and forced to return to their country of origin.
The Times' initial story on the travel ban contains a litany of reports on travelers spurned, humiliated, inconvenienced, and endangered by the ban. A Syrian family of six, for instance, who had been living in a Turkish refugee camp, learned today that their long-awaited flight to Cleveland on Tuesday has been cancelled.
At New York's John F. Kennedy International Airport, two Iraqi men—Hameed Khalid Darweesh and Haider Sameer Abdulkhaleq Alshawi—were detained on Friday night immediately followed the president's order. Lawyers representing the men, who have ties to the US military and were granted visas to enter the country, filed a lawsuit against President Trump and the US government on Saturday, claiming that the executive order is, "unlawful as applied to petitioners," and that their continued detention, "violates their Fifth Amendment procedural and substantive de process rights."